Gather information and control your IoT devices
Our own product IoT Station keeps you updated: you can follow and compare data sent by your devices, control the data gathering equipment and save recorded history data.
The system presents the devices' status the method you choose numeric, graphics, diagrams and cumulative trends. In case of an alarm IoT Station sends the message to your mobile device.
You can use IoT Station with any browser – including mobile browsers. We have also developed our own mobile application that can make even better use of the phone's functionality than the browser.
The idea of ​​the IoT Station is simple – you get the finished IoT solution for a monthly fee and you get it deployed quickly without an expensive development project.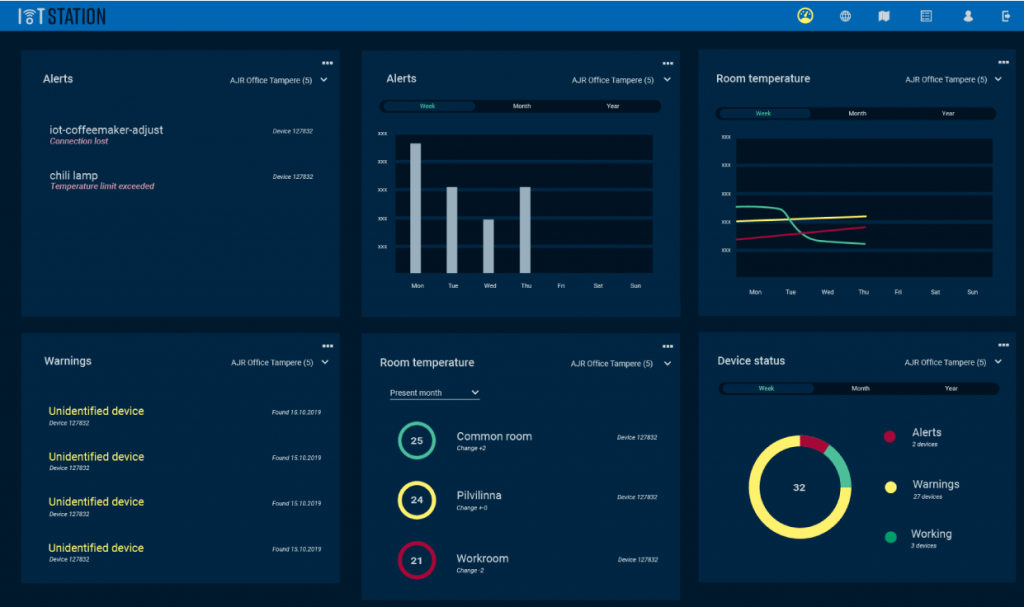 Monitor and gather information
Users can choose two different ways to monitor information. The Dashboard shows the data in
multiple formats. Users can gather statistics from the devices and efficiently compare the received data.
Setting the threshold values and alarms
User can define border values in order to trigger alarms. The setup is made very intuitive and
simple. The alarms are communicated via push notifications or SMS/mail messages.
Devices on the map and floor plan
Users can monitor connected devices via map and floor plan. The data updates are seen on the
map.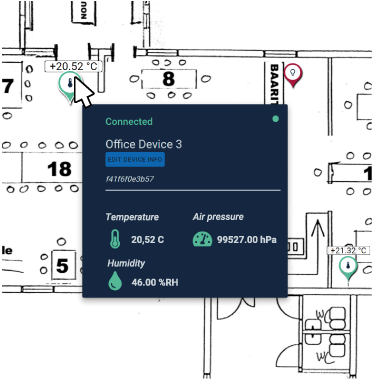 See the gathered data in easy-to-read format
Set Alarms in a mobile app
Weekly error reports
Weekly automated monitoring report
See your devices on the map and floor plans
Utilize the newest IoT-technologies
Save time, money and the environment
IoT Station works with any sensor or IoT device.
BENEFITS

A platform to track all your data
You can connect device-, company-, customer- and user data to Iot Station in an easy-to-manage and presentable format.

Easy to customize
Customizable views and alerts to suit your and users needs. The IoT Station can be customized to suit the look of your company.

Low cost
Deploying and customizing IoT Station is faster and less expensive than building the software right from the start.
Efficient use of cloud services reduces operating costs.
WHY WOULD YOU CHOOSE AVANIO?
1.
IoT solutions are our specialty
2.
We are a reliable partner
3.
Customer experience is a matter of honor for us
Dynamics Integrations
Do you want to integrate your existing systems into a working entity? We implement integrations between any systems reliably
IoT Solutions
With the help of IoT solutions, you can collect and analyze data valuable for your business. You can make use of
artificial intelligence as well as data analytics and remote control devices
API-development
API development ensures that integrations work and data flows between systems
IoT Station
With the IoT Station system, you can monitor the status of your iot devices and control them in real time